Marie-Louise and Uan chose the gorgeous Trelawn Place for their wedding ceremony, not only because of it's spectacular views but also because it overlooks the Shotover River – the same river their home overlooks! I was delighted to be asked to share their special day and a lot of energy went into ensuring every little detail was perfect – and it was!
Today I received this lovely message from Marie-Louise – believe me Marie-Louise, the pleasure was all mine!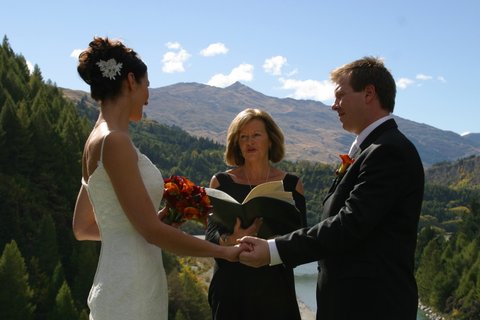 Dear Phillipa,
What a magical wedding day we had!!
The people, the weather, the celebrant, the food, the music, the ambiance…
It all came together in 1 day… OUR DAY!
Friends and family complemented us on the personal ceremony so
beautifully brought by you!
To us it meant so much, as the ceremony was us in every word.
We where so blessed to have precious people surrounding us while we
made ourselves 'complete' with this wedding ceremony.
Thank you for your natural charming personality that added to our day
with all your help, support and joyful way bringing a ceremony
together.
We will always look back on this stunning day with so much joy,
happiness and love!
Thank you ever so much and hope to see you again somewhere in Queenstown,
Big hug!
Marie-Louise & Uan
Livia and Mareo
Spijkerbosch – Berenschot