For over 20 years it has been my privilege to be a celebrant and I have loved every moment of it. I am experienced, knowledgeable, sincere and feel very fortunate to have shared one of the happiest days of couple's lives.
When you are as enthusiastic as I am about being a marriage celebrant in this wonderful place that I have called home for over 30 years, each ceremony is delivered from my heart.
The role that I have allows me to listen to each couple's story and to share their dreams for their future together – one of the many roles of a celebrant is to assist them to take the next step in their journey of life … together – and this is a true honour for me.
Some stories include couples meeting at school and reuniting years later, living in different countries and, against all odds, their relationship has strengthened, meeting on the internet, at university, work or bars, through friends and family – each story is different but they have the same theme – they love each other and want to spend the rest of their lives together.
How lucky I am to share their love and joy with them on their wedding day!
Each couple's story is different so each ceremony is different – no 2 ceremonies are the same and to achieve this I make lots of opportunities to share stories and memories with each couple and listen to their hopes and dreams for their future together so that the ceremony is personal and unique – it is the couple's ceremony, not mine.
At an AGM of the Celebrant Association of New Zealand (CANZ)  I was asked to speak on a panel to discuss 'What makes a good ceremony great', during which I shared many thoughts with other celebrants – the main tips are to personalise each ceremony to the couple, include friends and/or family in a ceremony as often as possible and love your role as a celebrant – and I love my role as a marriage celebrant!
I am also more than happy to officiate at  blessings, renewal of vows, namings, funerals and memorial services – life is to celebrated – let me help you celebrate!
I am a former secretary of Queenstown Wedding Association and member of CANZ and, according to a survey completed in 2019 by CANZ, I am one of the most experienced marriage celebrants in New Zealand. I believe the reason for this is because of the passion I have for my role as a marriage celebrant and also because I live in what I believe to be the most beautiful place in New Zealand (possibly in the world, but I may be biased) – Queenstown!
Maybe we'll meet here one day,
Phillipa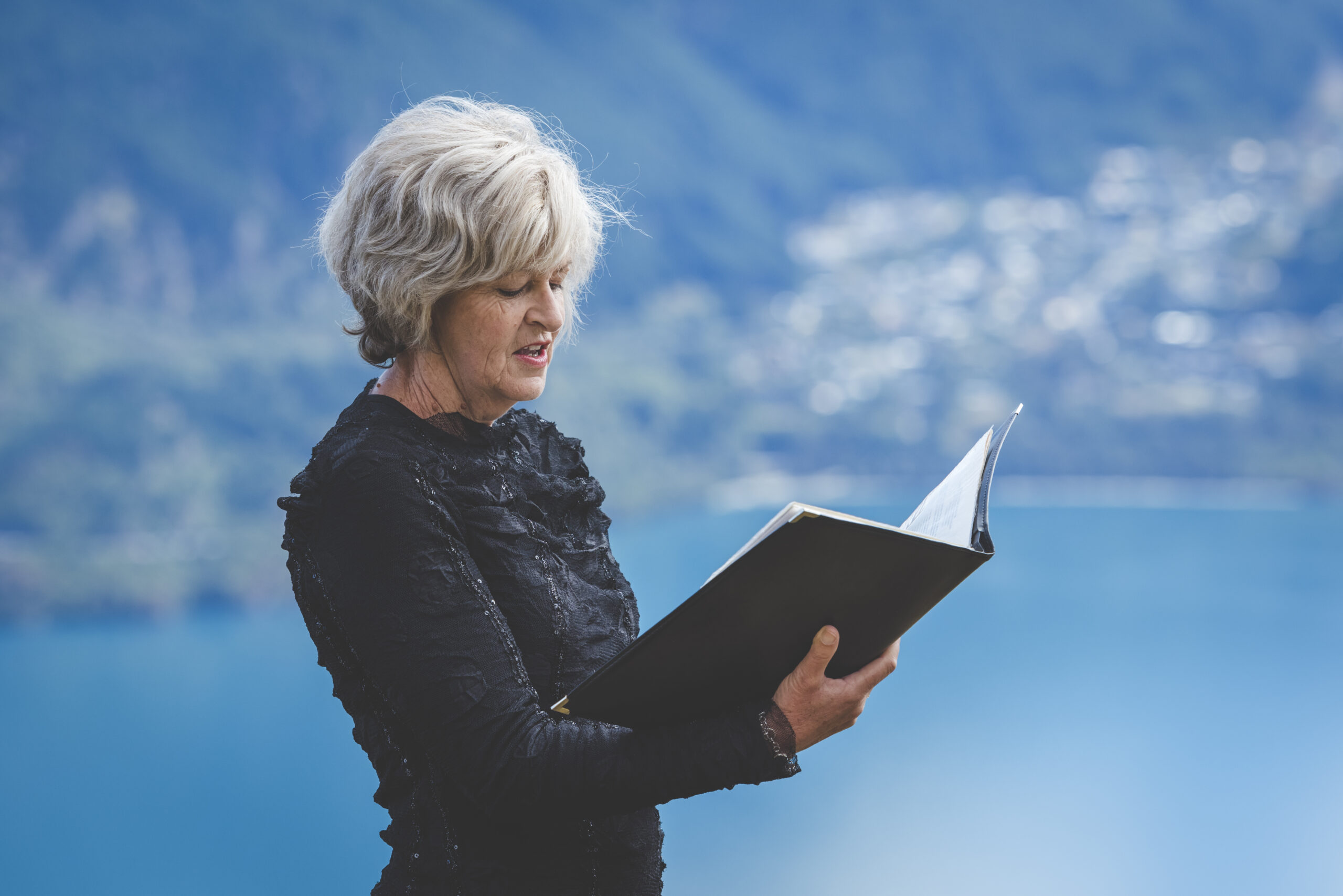 Phillipa, doing what she loves most!