Queenstown, New Zealand
The ultimate spring wedding location!
Are you looking for a sweet spring wedding location?
Well, Queenstown is definitely your answer!
Surrounded by majestic mountains and nestled on the shores of crystal-clear Lake Whakatipu, Queenstown is the Southern Hemisphere's premier four-season lake and alpine destination.
Known for its breath-taking scenery, Queenstown offers a vast range of experiences, cosmopolitan vibe and friendly locals.
Spring in Queenstown is a beautifully romantic time of year which makes Queenstown a downright magical destination for a spring wedding.
Spring wedding style is inherently elegant and romantic, with a focus on fresh and lighthearted elements that reflect the joy of the season.
In this free guide I share just a few of the many reasons to plan your sweet spring wedding here in Queenstown.
Spring in Queenstown is a time for fun and discovery.
The green valleys burst with fresh spring buds and green pastures yet are surrounded by snow-capped peaks, heralding the arrival of spring. The sun shines from early morning until 7-8pm, thawing winter's touch, with daytime temperatures ranging between 8°C and 22°C. The days start to get longer and warmer and while you still need to pack a coat, there are plenty of sunshine hours to design your ideal spring wedding.
When we think about spring, we think about baby lambs and gorgeous green fields. And Queenstown has plenty of these, as well as so much more to see and do.
When spring kicks off in Queenstown, the ski fields are going strong which means that the mountain tops are still covered in snow, despite the warming weather. In fact, it's not unheard of to have one or two big snow dumps throughout September and October and I can remember marrying a beautiful couple in November and it was snowing very heavily at the time!
As well as the green fields, baby lambs and snow-capped mountains, in spring you'll also have blossoms galore – those same trees that were orange, red and yellow in autumn, become pink with snow-like blossoms in October. And, you'll be enamoured with all the peonies around. If you are a flower lover, spring is definitely the season for you!
As with autumn, spring will give you the best of both winter and summer when it comes to the weather – warmer days as a tempting lead up to summer, but still those cosy nights that we love so much in winter. Imagine a wedding in which your guests comfortably wear sundresses and light shirts for your ceremony, and then make their way inside for mulled wine by the fire for the reception.
All this makes Queenstown a downright magical destination for a spring wedding
—here are some of the many reasons why:
1. Queenstown makes a sweet spring wedding destination.
What's more romantic than walking with the person you love in white snow? From the breathtaking views of ice and snow to the homey warmth of an open fire and mulled wine, spring is a beautiful season (the ski fields are usually open until October and so if you chose to have a heliwedding you can still walk in snow, or on a glacier!).
After your ceremony you can fly back to Queenstown where the temperatures can rise to 22'C which provides you with an opportunity to take advantage of the natural beauty around you and consider a Queenstown spring wedding.
Mountain lodges light fires, and the scent of mulled wine fills the town at dusk. Crisp blue days and dramatic skies make for incredible photographs.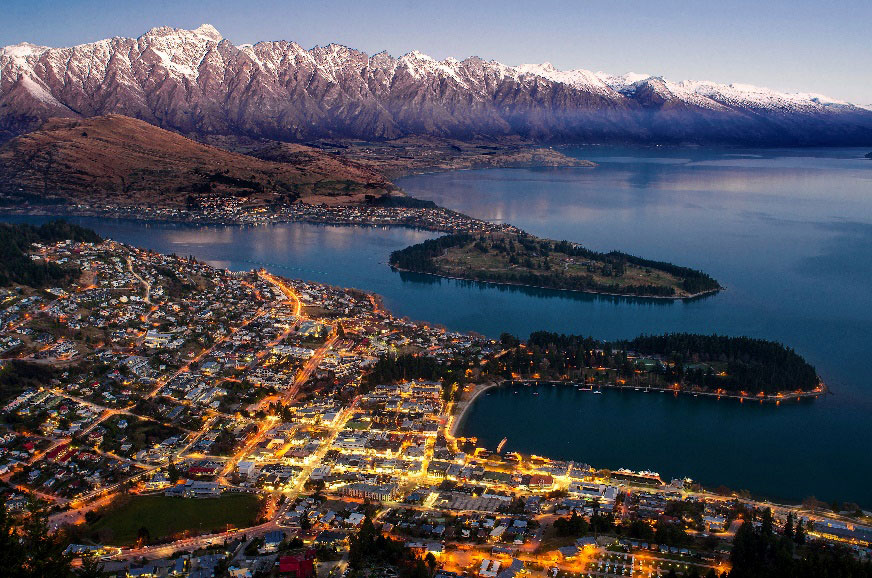 And fair warning: Take note because it's easy to go overboard (if there's such a thing!) with your floral budget this time of year.
2. Let's talk flowers:
There's something special about spring weddings – the abundance of flowers, the pastel colours, the garden inspired details. Not to mention that this is the season of welcome change and warmer weather.
Spring is often associated with pastel palettes – think pinks, purples, whites, baby blues and pretty blooms, details that translate perfectly to springtime wedding décor. In fact, when marrying in spring, just embrace the season!
If you're having a spring wedding, then consider yourself spoiled when it comes to your wedding flowers — and I mean that in the best way possible! Not only do you have your pick of flowers that are readily available year-round (hydrangeas, roses, lilies, orchids, dahlias), but you're also in luck when it comes to some of the most coveted blooms, including peonies,( peonies is in bold because I love them and are grown here in Queenstown) that can be difficult or expensive to find out of season. Other spring flowers include tulips, anemones, daffodils, lilacs, hyacinths, hellebores, and poppies.
3. Garden Party atmosphere
Following on nicely from spring flowers is a garden party atmosphere. Instead of throwing rose petals throw sprigs of lavender.
A tent or marquee is a smart idea for a spring wedding – remember those spring showers previously mentioned, but that doesn't mean you can't have your dream garden party. With the right rental and topiary plants, you can absolutely recreate the vibe of patio seating inside a marquee.
Strawberries are in season so take advantage as is asparagus (my personal favourite).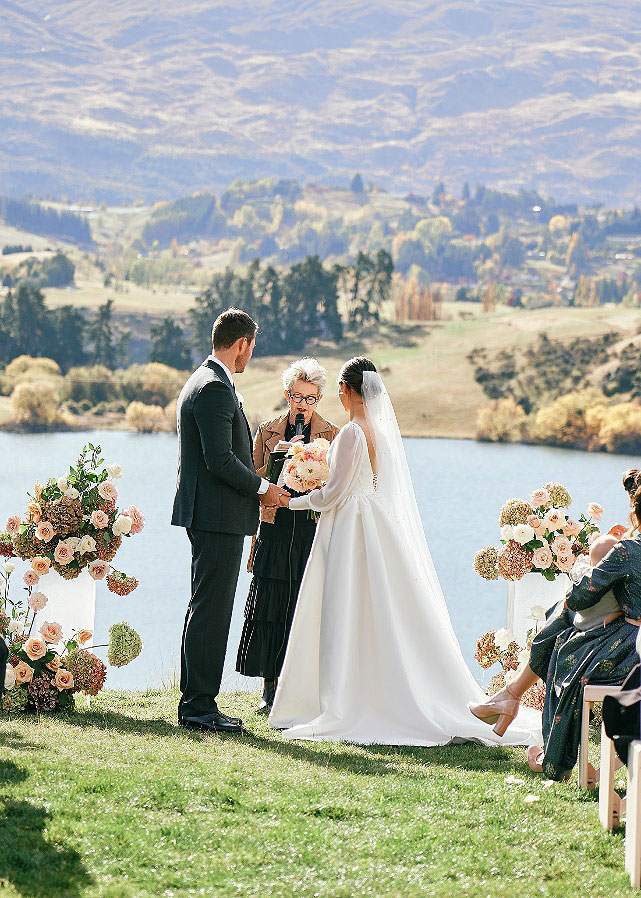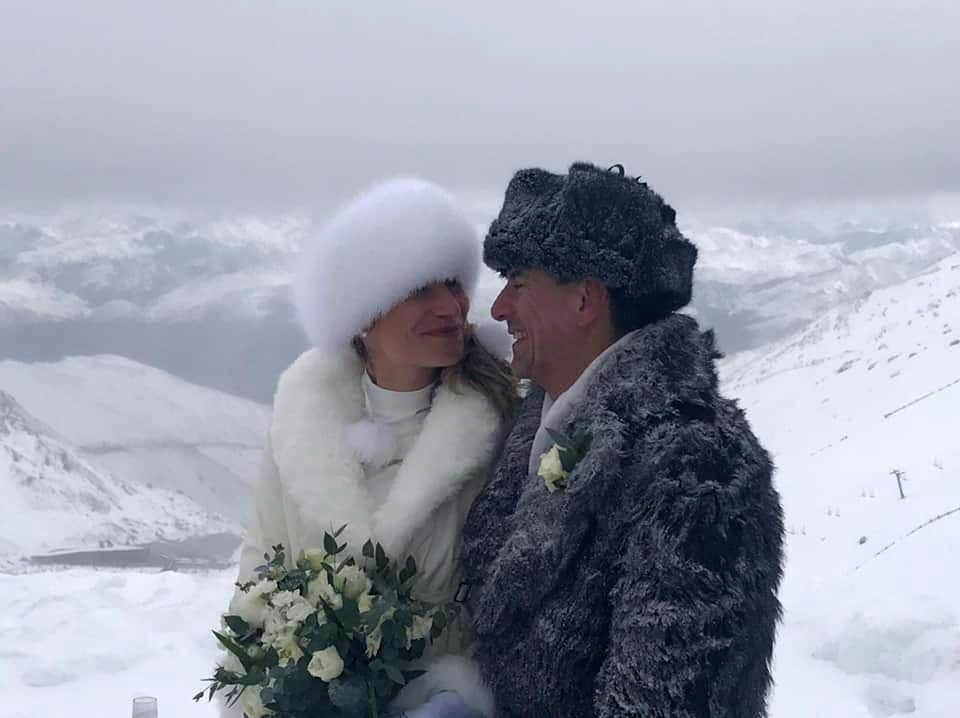 4. It's a perfect opportunity to enjoy a ski/snowboard holiday and marry at the same time!
Queenstown is home to New Zealand's best ski fields. With four ski areas within easy access and offering quality snow and terrain for all levels of skiiers, Queenstown is the ultimate ski holiday destination. With direct flights from Australia and New Zealand's main centres, getting to Queenstown is easy and you can be up the mountain or in our vibrant town centre in a matter of minutes.Over the years I have seen many couples combine a ski trip with their wedding and honeymoon. And occasionally they've even married on the slopes and then continued their day with the family and friends on the skifield. Very clever!
5. Spring Elopement
A spring elopement in Queenstown is the perfect answer if you prefer:
1. Intimacy and Intention
2. Less family drama
3. A "just us' experience
4. Valuing experiences over stuff
5. Less stress and anxiety
6. Less planning
7. Don't like to be the centre of attention
8. Believe life is meant to be an adventure
9. Want some wonderful spring photos.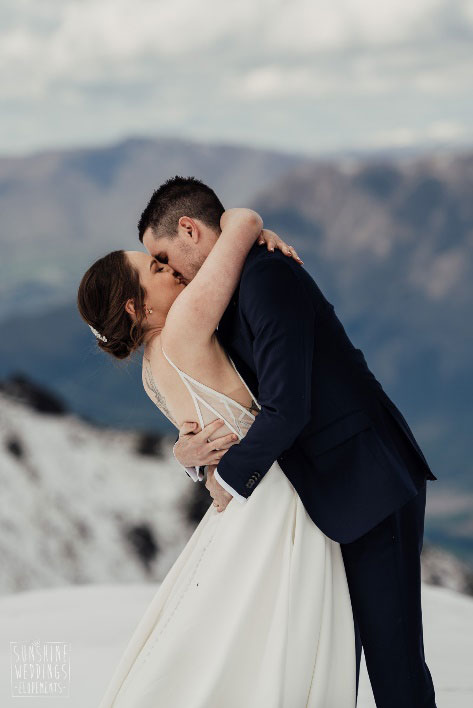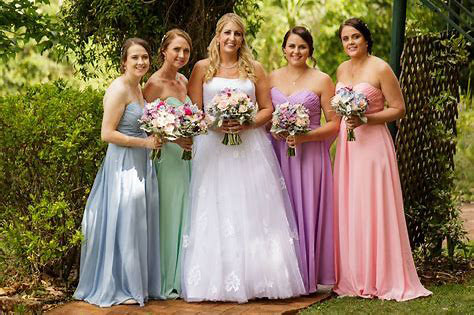 Mismatched dresses for your bridemaids gives all the romantic garden feels
6. Spring Wedding colour palettes for a light and airy celebration.
A spring wedding is all about fresh colours that represent new life and a new union. Choosing your colour scheme will be one of your first tasks when it comes to planning your wedding and springtime hues are just the thing to give your celebration a fresh look.
I don't pretend to be an expert on wedding colours, but my research for spring 2023 shows the following trends:
Earthy naturals
Barbie pink/ or soft pink
All white
Orange and navy
Pastel
Soft grey
Terracotta
Rainbow
Bright or pastel sunset
Lovely lavender
Glowing gold
Sunny yellow
Shades of blue
7. The weather
Spring's milder temperatures make a midday outdoor wedding comfortable. But just like any other season, Mother Nature might have a few tricks up her sleeve. Knowing how to avoid (or deal with) these obstacles will keep your guests comfortable and ensure your day goes off without a hitch.
Play it safe by having a plan B, like a tent or indoor option on hold in case it rains. Have plenty of umbrellas on hand to guarantee that guests stay dry.
On that note, all that rain (or melting snow) combined with warmer temperatures can turn your venue into a muddy mess. Protect your dress by charging a bridesmaid with holding your train as you walk. If your dress does get muddy, wait until the dirt dries (a blow dryer can speed up the process) and flick it off. Then use an instant stain remover stick to get rid of any remaining mud. To protect your wedding-day heels (and create a cute photo op), consider wearing wellies and gifting your attendants coordinating rain boots in your wedding colours. If a tent or marquee is part of your plan A or B, renting flooring for the entire space can keep the wet spring ground from turning your reception into a mudslide.
If it's warmer than usual, hang parasols and fans along the back of chairs for guests to grab, and serve chilled beverages to keep them comfortable and hydrated while they wait for the ceremony to start.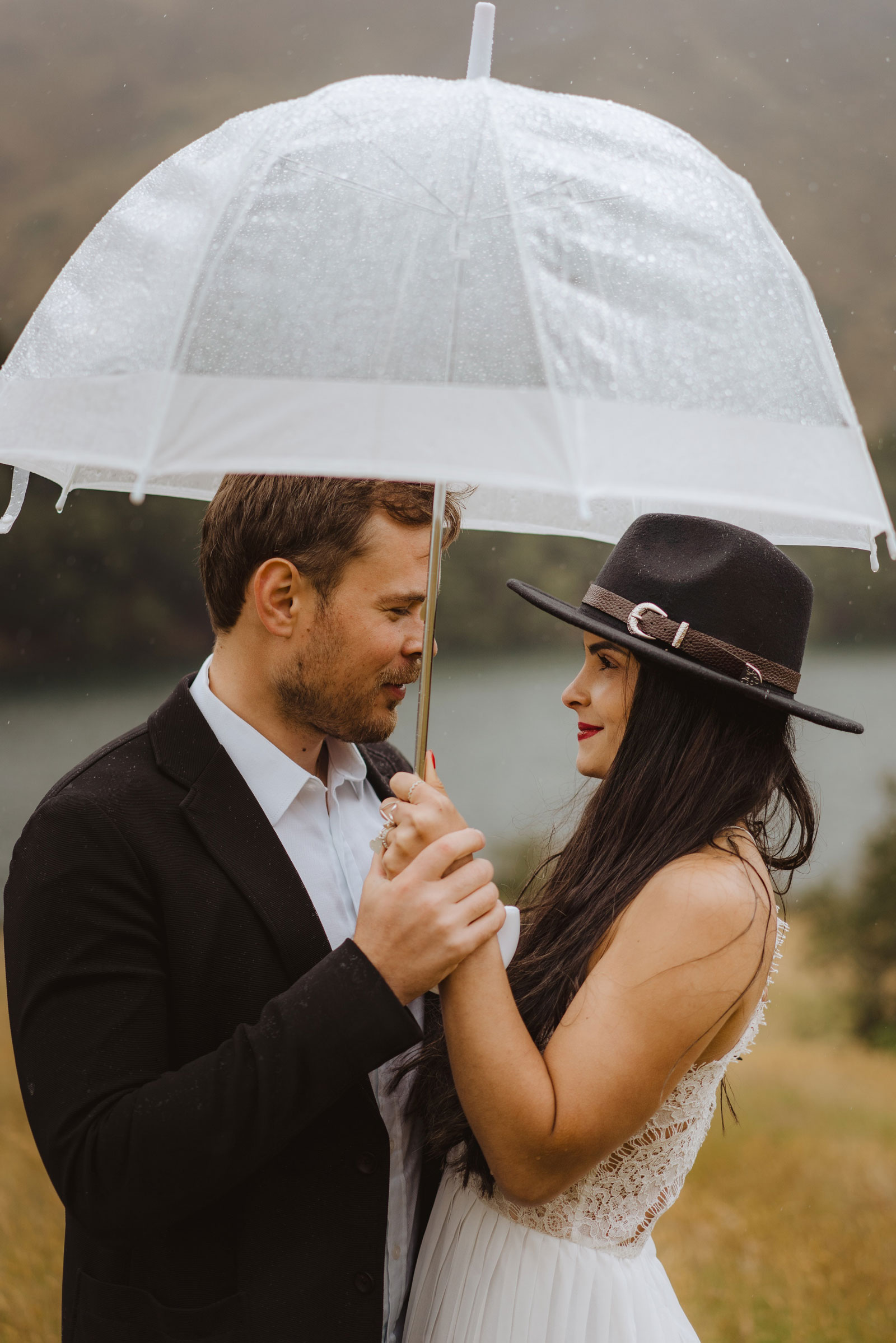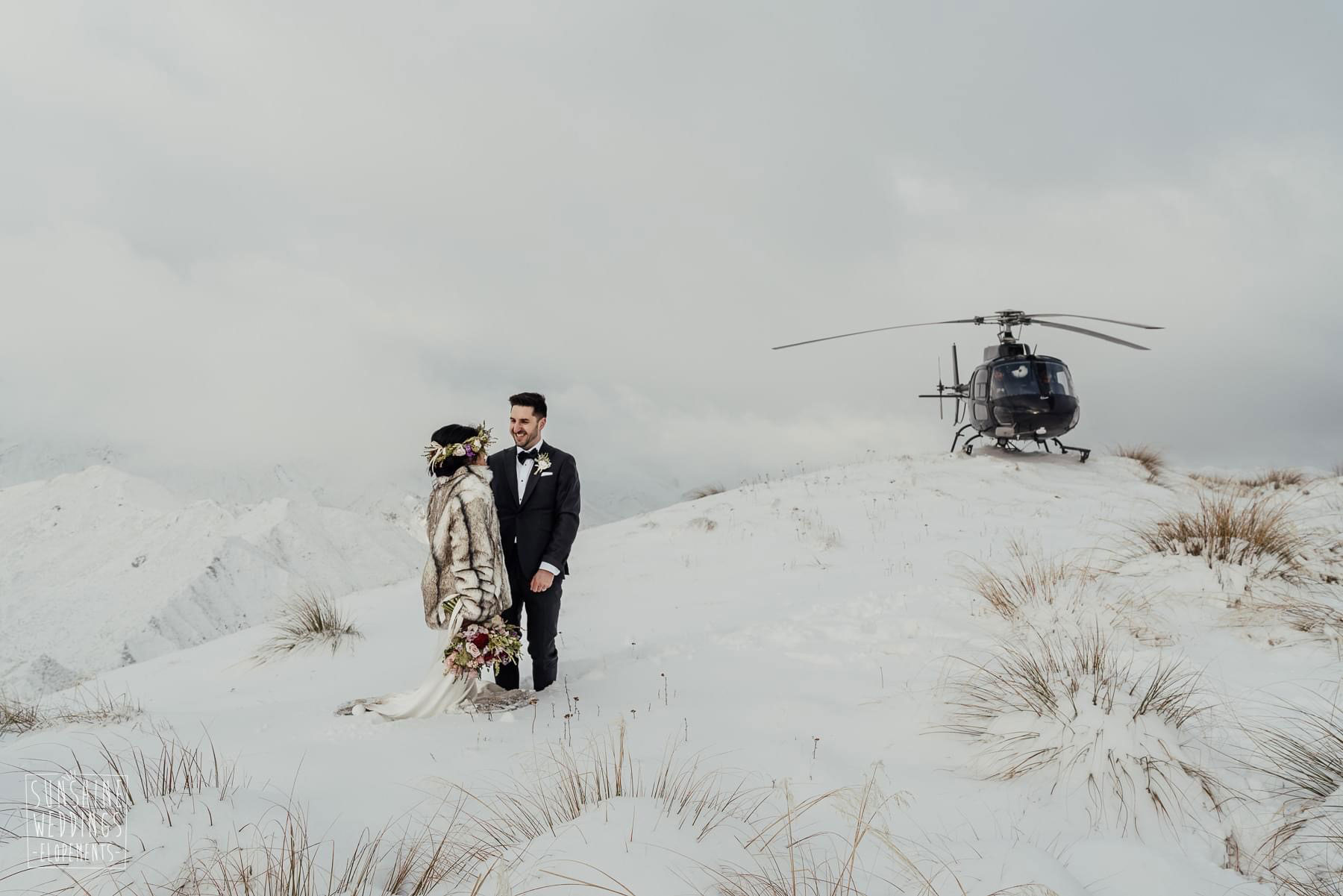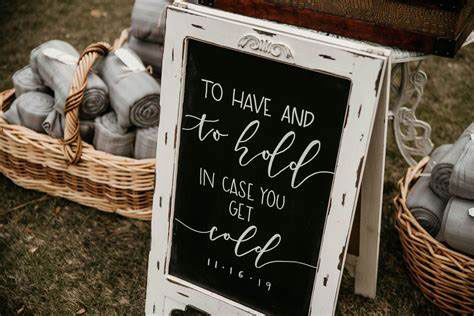 A gracious touch: Set out a basket of pashminas or blankets in your wedding colours.
But then again, evenings can get chilly. In Queenstown in spring nighttime temperatures can drop as low as 8'C especially in September and early October. Advise your guests, especially out-of-towners, about proper attire for cooler nights. If you're hosting part of your celebration outdoors or inside a marquee, rent portable heaters for when the sun sets.
It can be cold so accessories will be important to keep warm. A faux fur stole, a veil, a cape or a chic cardie are all good options. Alternatively opt for a long sleeve wedding dress.
If it's very cold, you can wear thick tights and or long johns under your wedding dress (as long as it's long) – nobody will know! This goes for your bridesmaids too.
If you're wearing heels, have another shoe option for your outdoor pics. You don't want to be sinking into mud or snow in your Jimmy Choos or Valentinos! Have a pair of warm comfortable boots close by.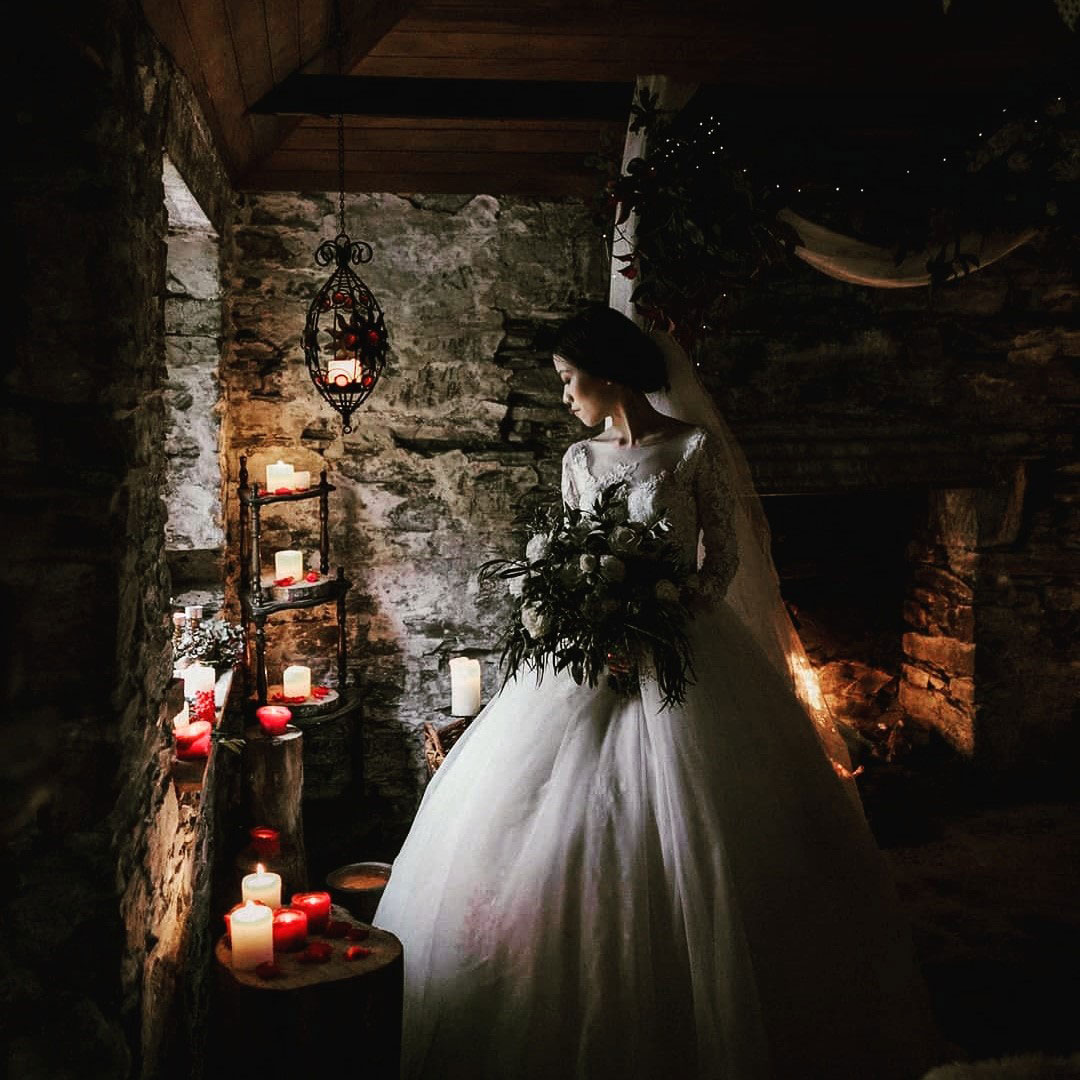 Another romantic option for lighting at a spring wedding is candlelight in both your ceremony and reception space.
8. Add Romance with Lighting
Good wedding lighting is right up there with flowers, food and atmosphere when it comes to all things that can help set the mood of your wedding day. One of the most popular wedding lighting options is twinkle string lights (sometimes called fairy lights or plain string lights). Couples love this look for its whimsical, fairy tale vibes.
Using string lights at your wedding will ensure that your setting truly sparkles and gives off a romantic vibe. They could be cascading overhead or wrapped around the trees in glowing coils of twinkle lights to set the stage for your wedding celebration. You can even fill lanterns with nests of tiny bulbs for an unexpected way to feature string lights at your wedding.
9. The natural lighting is perfect
Couples who get married in spring can make mother nature work for them!
In the mornings, sunlight reflecting off the snow make for brighter, better images. And if you want a romantic shot in the sunset, you won't have to wait that long!
Although the days are longer… (remember daylight saving starts on the last Sunday of September in NZ) giving you more time available to play with different lighting, and that means you'll have a greater variety of wedding photos to choose from.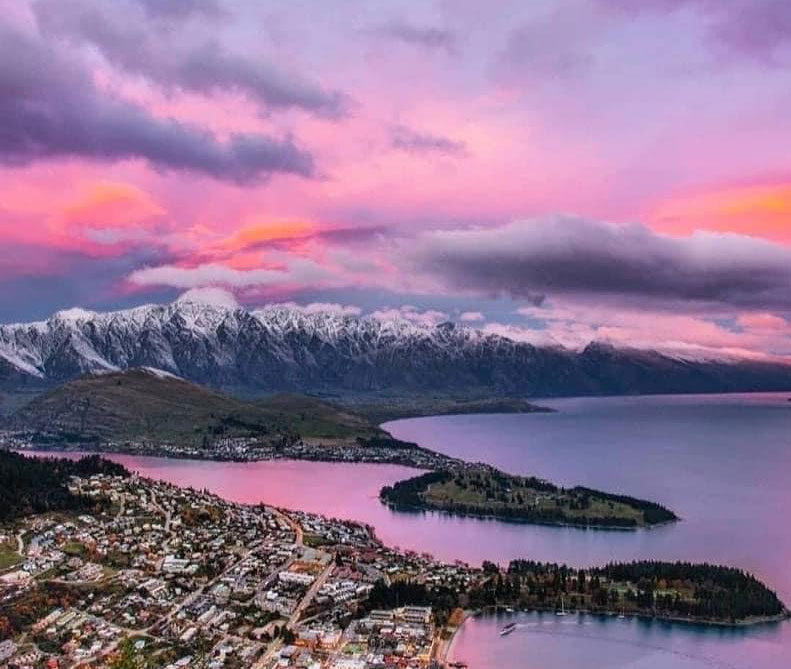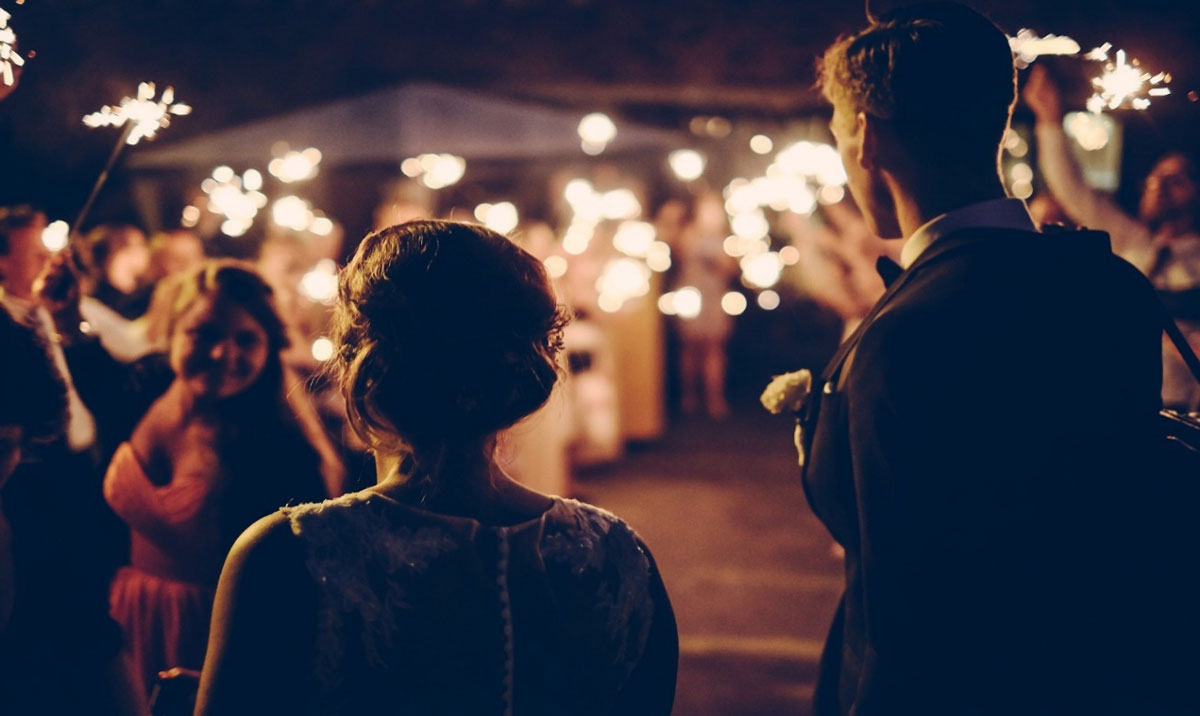 10. The party starts sooner
One of the best parts of a wedding is the reception, where you and your new husband/wife dance the night away with your nearest and dearest.
Spring days finish around 7 to 8pm, and that means your guests can really get the party started ASAP.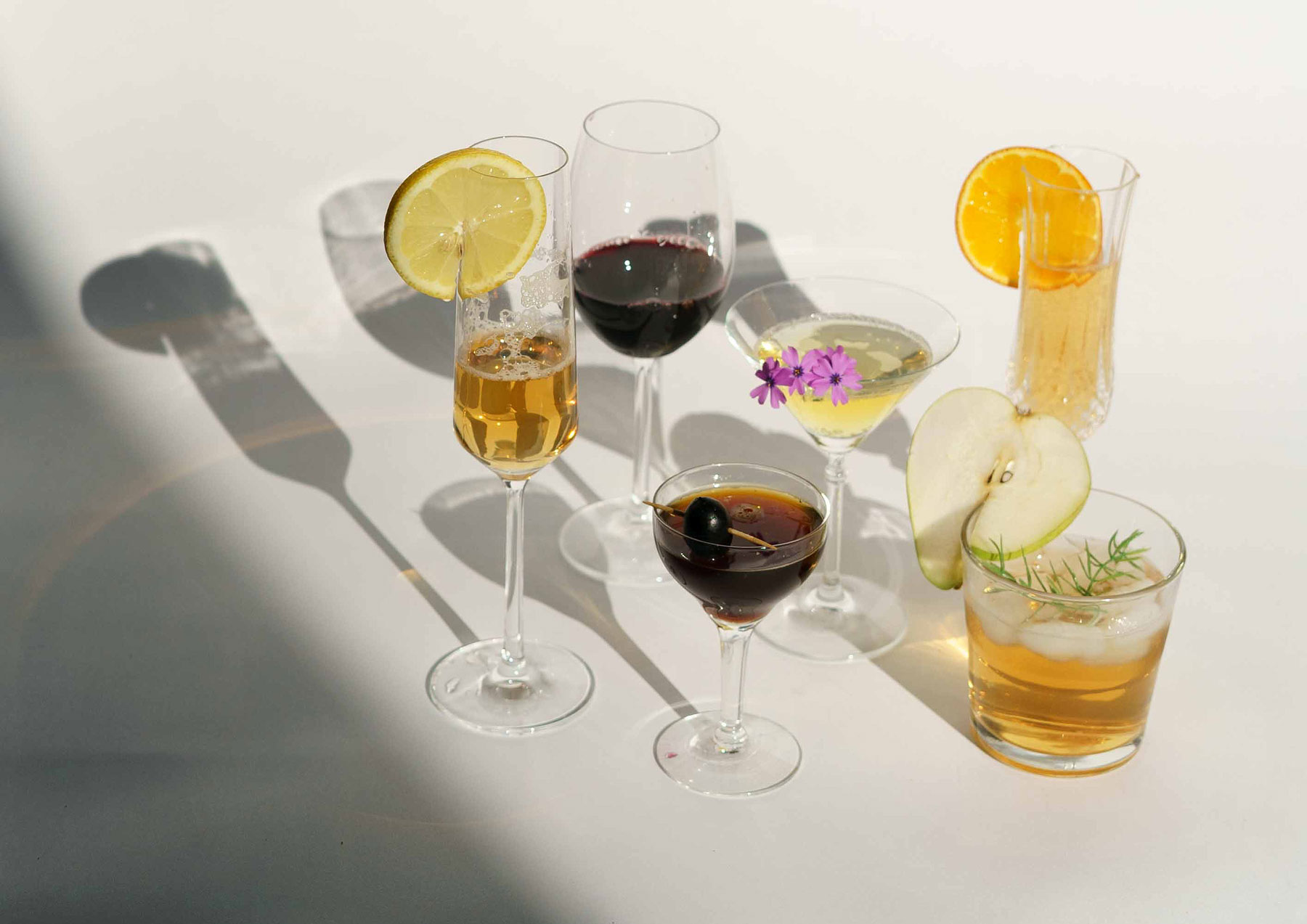 11. Serve specialty cocktails
With temperatures rising, a pre-dinner cocktail hour with crisp, refreshing drinks are a great way to keep guests fuelled and the party vibes fresh.
White wine sangria garnished with fresh lemons and seasonal fruits is a simple signature sip for a loft party. A Perfect Pear (pear-flavoured vodka and St-Germain finished off with strawberries) is an elegant choice that works everywhere. Mango, watermelon and other flavoured martinis are a cocktail hour favourite and can coordinate with your wedding colours.
I love the idea of serving a cocktail with a smart garnish, freeze flowers inside icecubes at a garden ceremony.
12. Wedding Cake and Dessert
For spring wedding cakes, it's no surprise that flowers are one of the most popular decorations. Ask your florist to set aside a few extra flowers that your wedding cake maker can use for decoration — roses, ranunculus, peonies, dahlias, and greenery are all excellent options. If you don't want to use actual flowers, sugar/gum paste flowers are just as pretty. Ruffled tiers, ribbons, floral-painted fondant, and naked or semi-naked cakes are all gorgeous options, too!
If you're looking for alternative dessert ideas, bite-sized treats such as macarons, miniature pies, and cake pops are great if you love the idea of a garden party wedding. Incorporate seasonal fruits by serving parfaits, tarts and bars.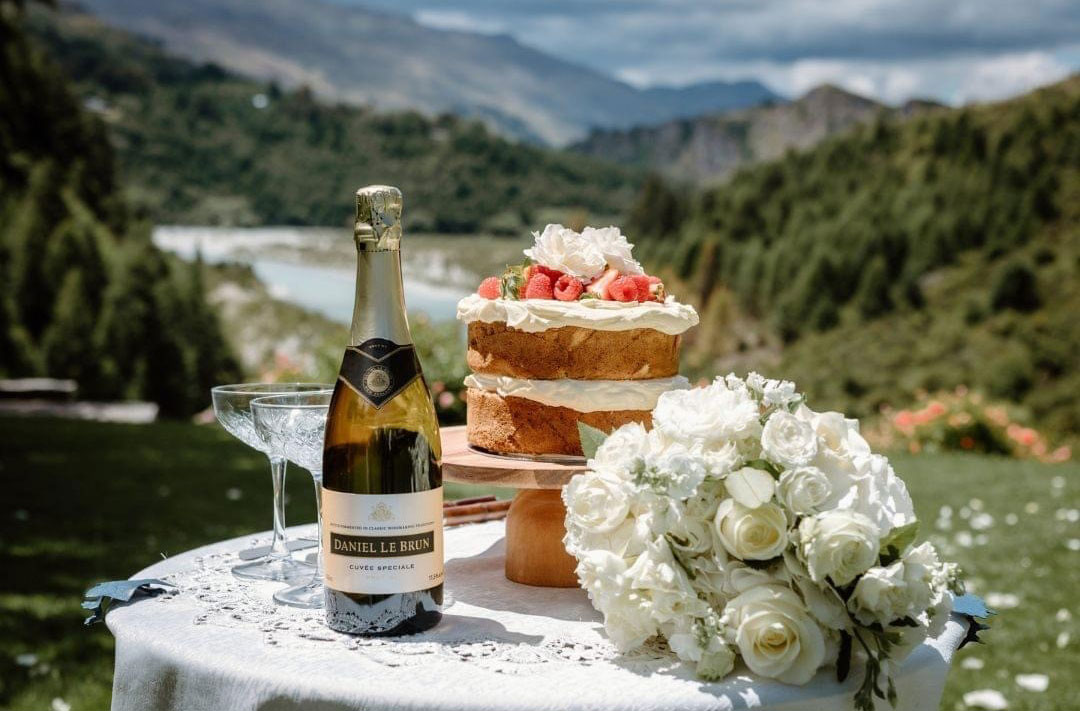 Pro tip: If your wedding is taking place in late spring and your cake will be displayed outside, order one covered in fondant, which holds up better in the heat.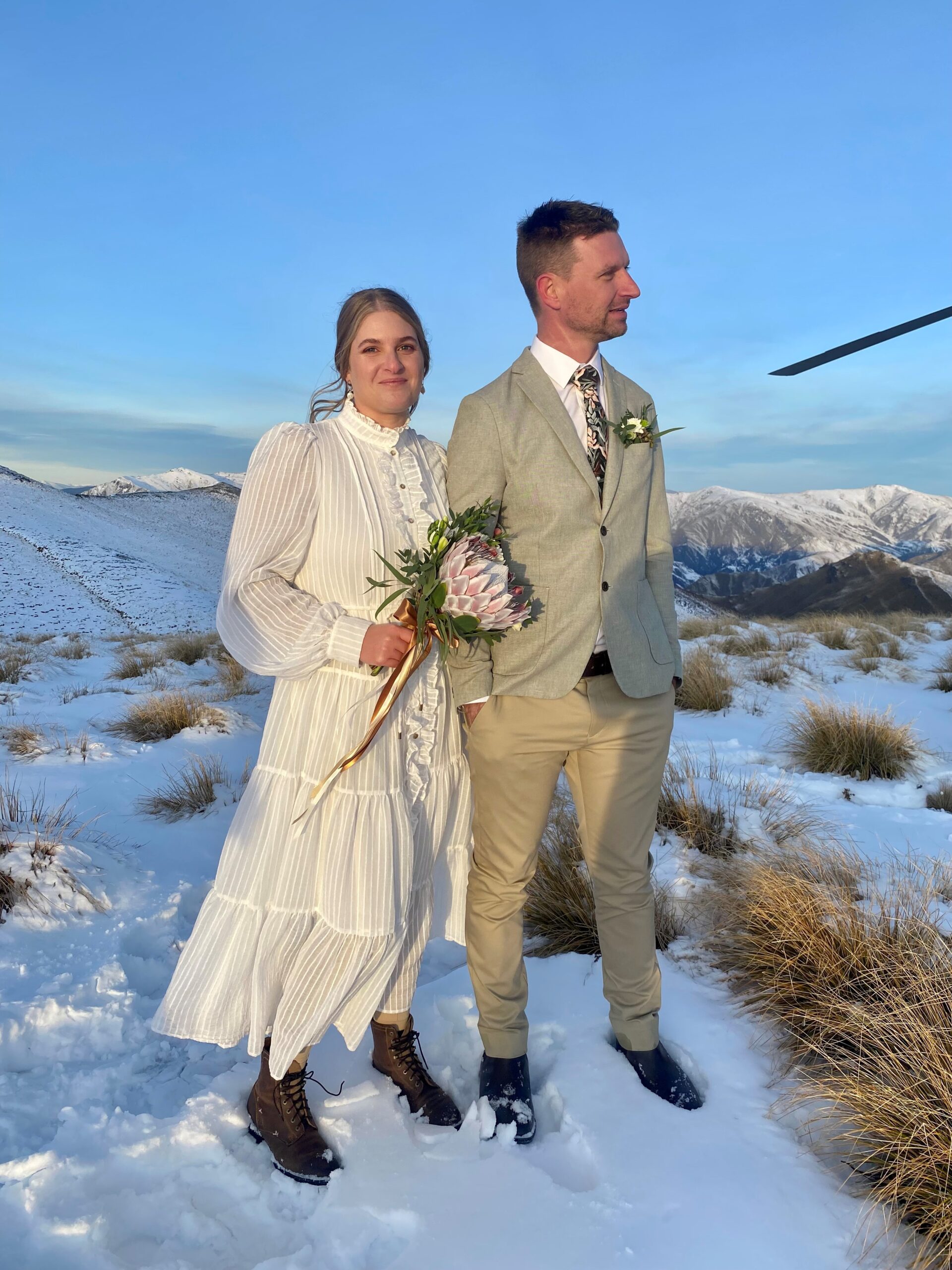 13. Attire
You simply have more options for your look in the springtime. For a wedding dress, know that hemlines can be higher and fabrics can be lighter, but floor-length gowns and other formal styles are appropriate.
Also, your dress code can be more low-key.
Which brings us to our next point: Spring weddings provide greater flexibility. Daytime parties such as brunch feel more fitting on a sunny spring afternoon than in the dead of winter, offering low-key and budget-friendly reception options. The longer days also make both day and evening events easy to execute.
Spring weddings are the sweet spot when it comes to attire. Depending on where you're getting married, it probably won't be so cold that you need to be bundled up in a heavy coat the entire time, but it also won't be overwhelmingly hot either. Ultimately, your venue type should be the deciding factor for your wedding dress code.
If you're wearing a wedding dress, sleeves are a beautiful option, especially if you're having an early spring wedding (they can provide a bit of extra warmth in chilly temperatures). A dress with sleeves looks modern yet elegant at the same time. For a more relaxed vibe, choose a dress made from lightweight fabric that will move as you walk, such as organza or tulle.
More Queenstown Spring Wedding Tips
Spring weather means there can be flight arrival and departure delays, always allow plenty of time before your ceremony to arrive in town.
If possible, have your ceremony & reception in the one venue, or venues very near to each other. This will make transport easier in case of bad weather.
It gets dark around 7 to 8pm in the spring so adjust your photo schedule for more light. Taking portraits before your ceremony is often a good idea. If you're not sure how to go about this, just chat to your photographer. They should have a good idea of what will work.
Have nice umbrellas on standby for outdoor wedding photographs. These don't have to be fancy – simple white or clear can often do the job (most photographers have some in their kit).
Wear suitable shoes for the conditions, for example boots if you are exchanging your vows on a mountain top – they won't be seen under your dress and will keep your feet warm and dry.