Queenstown, New Zealand – The ultimate winter wedding location!
Are you looking for the ultimate winter wedding location? Well Queenstown is definitely your answer!
Surrounded by majestic mountains and nestled on the shores of crystal-clear Lake Wakatipu, Queenstown is the Southern Hemisphere's premier four-season lake and alpine destination.
Known for its breath-taking scenery, Queenstown offers a vast range of experiences, cosmopolitan vibe and friendly locals.
Winter in Queenstown is a beautifully romantic time of year, especially July and August, which makes Queenstown a downright magical destination for a winter wedding.
Throwing a winter wedding is fast catching up with summer as the most popular time for a Queenstown wedding. The nights might be darker, but the sparkles are brighter, atmosphere merrier and the whole day is bursting with romance.
In this guide I share just a few of the many reasons to plan your ultimate winter wedding in Queenstown.
Winter in Queenstown is a beautifully romantic time of year, especially July and August, which makes Queenstown a downright magical destination for a winter wedding.
Here are some of the many reasons why:
1. Queenstown is a winter wonderland
What's more romantic than walking with the person you love in fresh white snow? From the breathtaking views of ice and snow to the homey warmth of an open fire and mulled wine, winter is a beautiful season. July and August are the best months for a winter wedding in Queenstown and you should absolutely take advantage of the natural beauty around you and consider a winter wedding.
Snow falls on the mountains and the slopes fill with skiers. Mountain lodges light fires, and the scent of mulled wine fills the town at dusk. Crisp blue days and dramatic skies make for incredible photographs.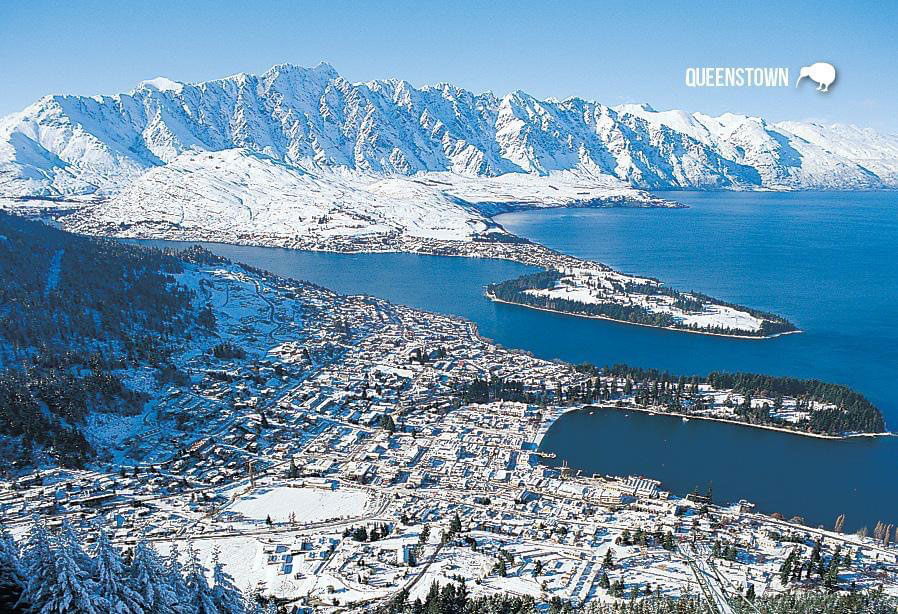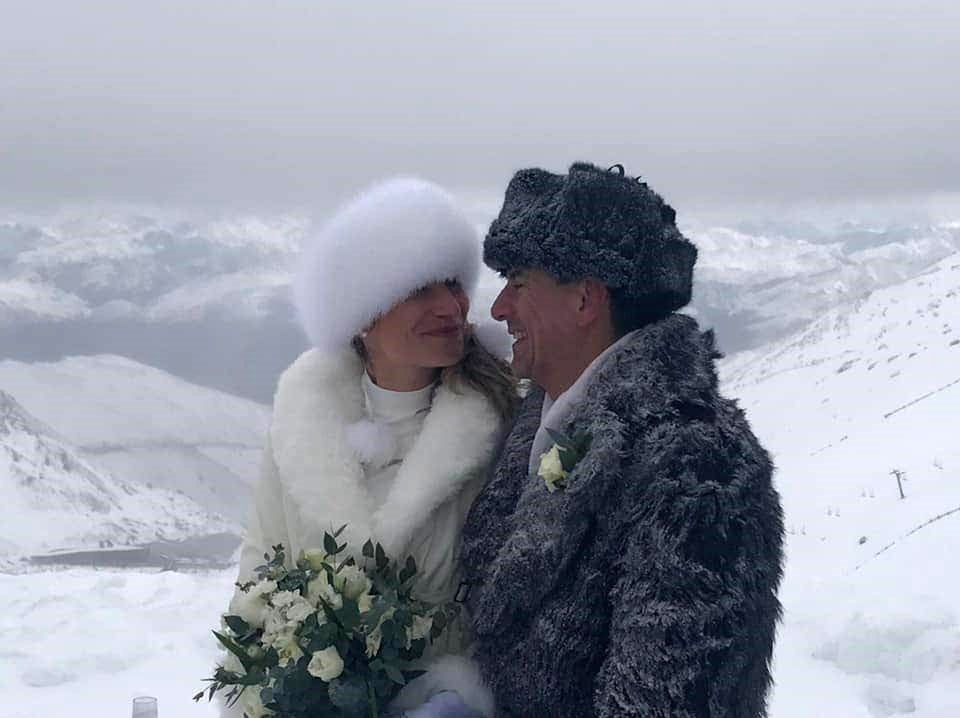 2. It's a perfect opportunity to enjoy a ski/snowboard holiday and marry at the same time!
Queenstown is home to New Zealand's best ski fields. With four ski areas within easy access and offering quality snow and terrain for all levels of skiiers, Queenstown is the ultimate ski holiday destination. With direct flights from Australia and New Zealand's main centres, getting to Queenstown is easy and you can be up the mountain or in our vibrant town centre in a matter of minutes.
Over the years I have seen many couples combine a ski trip with their wedding and honeymoon. And occasionally they've even married on the slopes and then continued their day with the family and friends on the skifield. Very clever!
3. Winter Elopement
A winter wedding elopement in Queenstown offers a breathtaking backdrop of snow-capped mountains, pristine lakes, and enchanting alpine landscapes, creating a magical and intimate atmosphere for exchanging vows. With its cozy and romantic charm, Queenstown in winter presents a unique opportunity to celebrate love amidst the serene beauty of nature while enjoying the region's renowned adventure activities and warm hospitality.
A winter elopement in Queenstown is the perfect answer if you prefer:
1. Intimacy and Intention
2. Less family drama
3. A "just us' experience
4. Valuing experiences over stuff
5. Less stress and anxiety
6. Less planning
7. Don't like to be the centre of attention
8. Believe life is meant to be an adventure
9. Want some wonderful winter photos.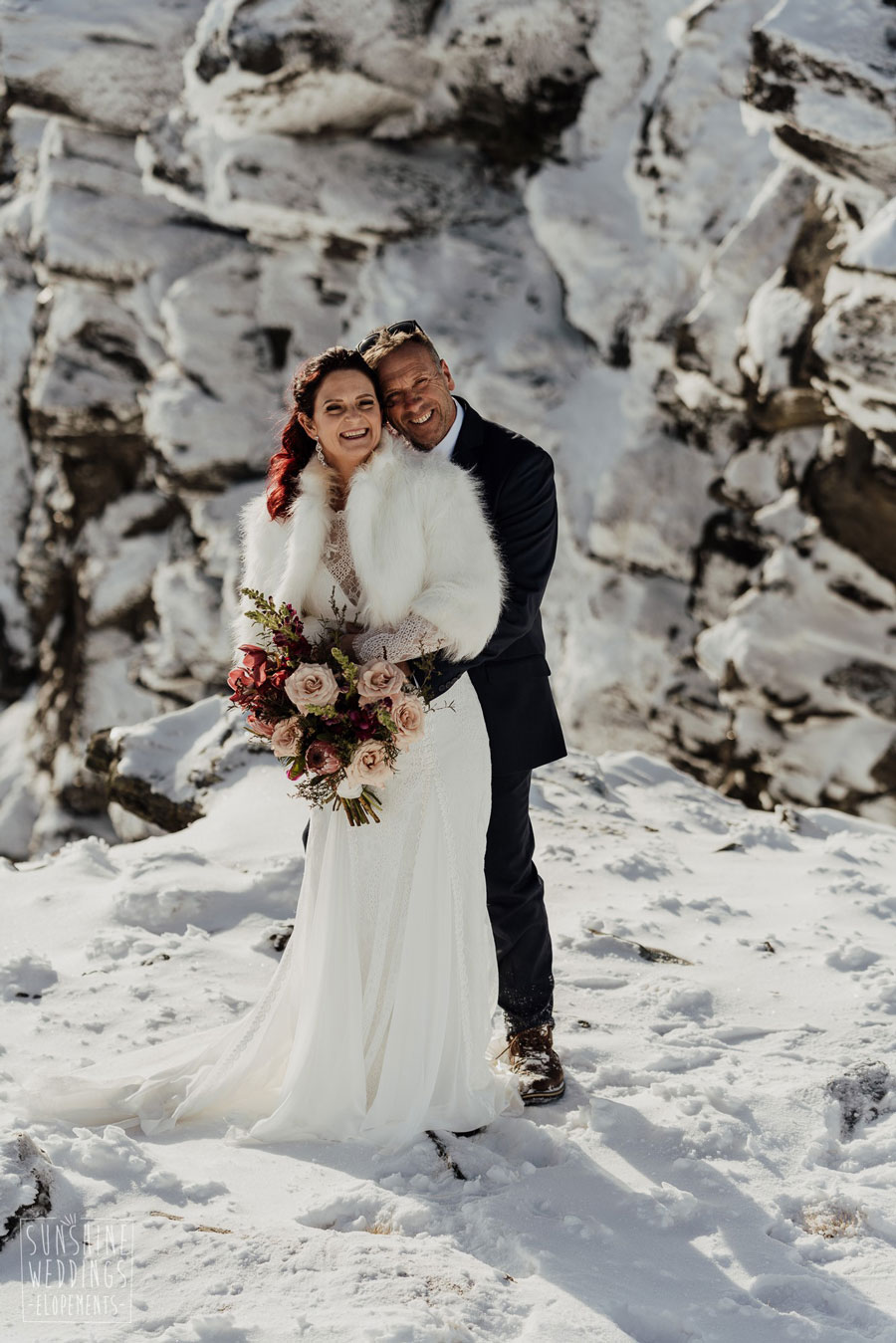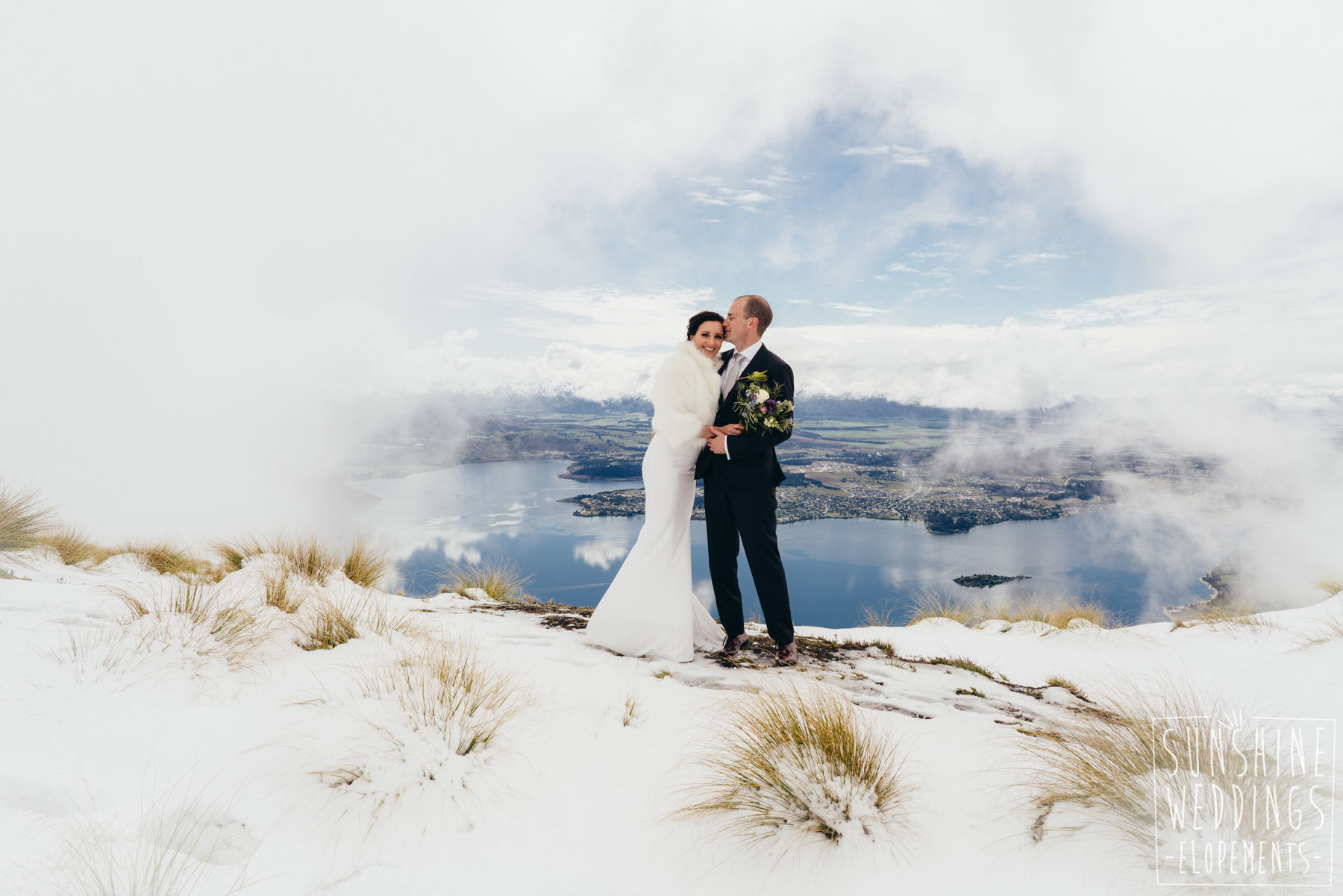 4. White goes with everything & so does black!
If you get married in the winter, you'll probably pick white as one of your wedding colours (after all, it's literally everywhere). But here's the great thing about that: white compliments every other hue! This gives you a lot of freedom to work with accent colours. Do you want a rich colour palette? Decorate in rich, warm tones of berry red, burgundy, black and gold. Add extra wintry romance with lots of natural greenery, or even a hint of tartan. Would you rather have something brighter? Silver and shades of light blue create a fun, festive look!
Or wear black and surprise everyone! You will have an edgy elegant evening dress that you can wear again and look absolutely stunning in snow.
5. Invest in Winter Accessories
It will be cold so accessories will be important to keep warm. A faux fur stole, a veil, a cape or a chic cardie are all good options. Alternatively opt for a long sleeve wedding dress.
If it's very cold you can wear thick tights and or long johns under your wedding dress (as long as it's long) – nobody will know!
This goes for your bridesmaids too.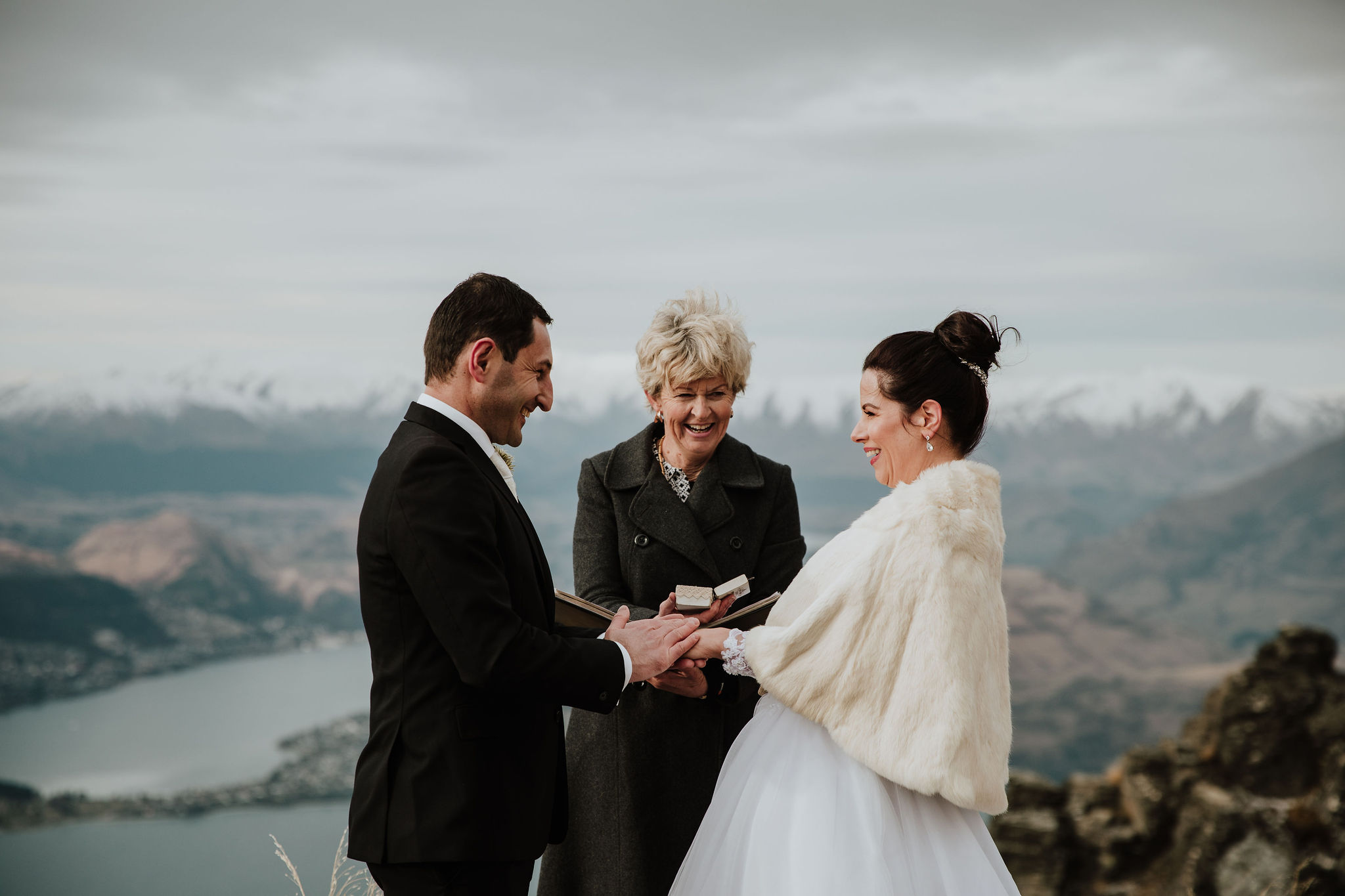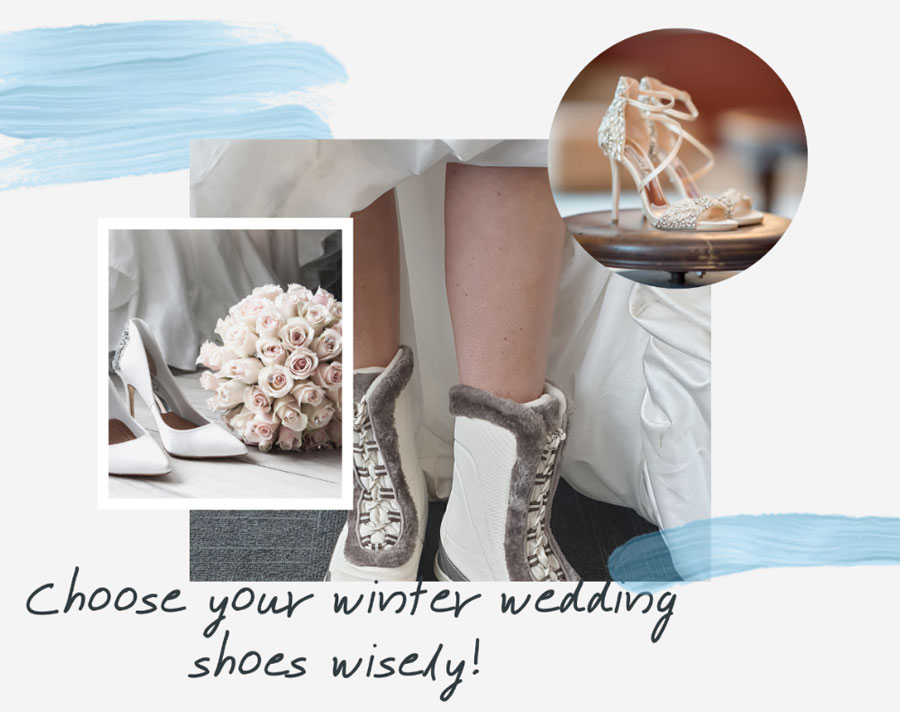 6. Consider Stylish Winter Footwear
Boots can be a stylish (and practical) bridal shoe option for winter weddings, especially if it rains or you are planning to be in snow. Again, nobody will know!
If you're wearing heels, have another shoe option for your outdoor pics. You don't want to be sinking into mud or snow in your Jimmy Choos or Valentinos! Have a pair of warm comfortable boots close by.
7. Keep your guests and bridesmaids warm
Is there anything better than warming up with mulled wine or spiced cider on a winter day? Winter weddings are the perfect time to indulge in your favourite hot beverages and comfort foods. Serving your guests hot cocoa and warm, hearty food is a surefire way to create a homey atmosphere—and if your guests feel right at home, everyone is sure to have more fun!
Provide all your guests with blankets for the ceremony and remind them that it will be cold and to dress accordingly. A hot drink on arrival is a nice and simple idea.
Don't forget your bridesmaids will be cold too! Make sure to have bridesmaid cover ups ready on the day.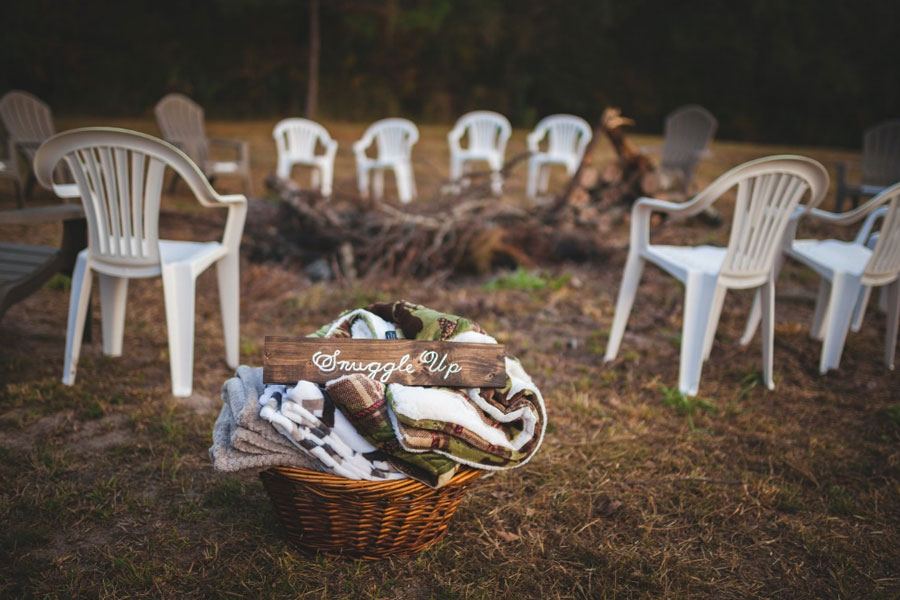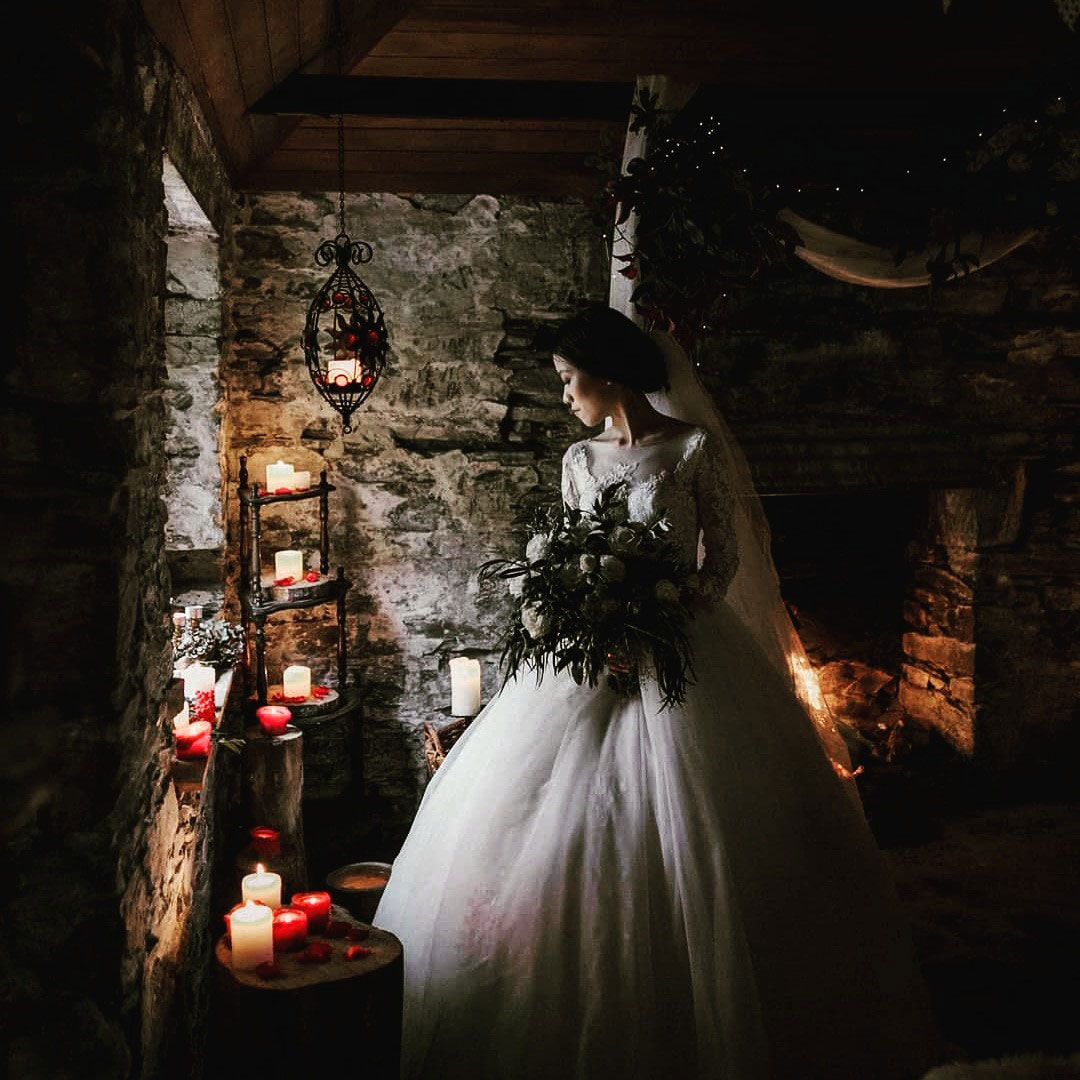 8. Add Romance with Lighting
Good wedding lighting is right up there with flowers, food and atmosphere when it comes to all things that can help set the mood of your wedding day. One of the most popular wedding lighting options is twinkle string lights (sometimes called fairy lights or plain string lights). Couples love this look for its whimsical, fairy tale vibes.
Using string lights at your wedding will ensure that your setting truly sparkles and gives off a romantic vibe. They could be cascading overhead or wrapped around bare trees in glowing coils of twinkle lights to set the stage for your frozen wonderland. You can even fill lanterns with nests of tiny bulbs for an unexpected way to feature string lights at your wedding.
Another romantic option for lighting at a winter wedding is candle light in both your ceremony and reception space.
9. The lighting is perfect
Couples who get married in the winter can make mother nature work for them! In the mornings, sunlight reflecting off the snow and frost make for brighter, better images. And if you want a romantic shot in the sunset, you won't have to wait that long! Shorter days mean you'll have more time available to play with different lighting, and that means you'll have a greater variety of wedding photos to choose from.
10. Vendors are generally more available
In Queenstown you will find that winter isn't quite as busy for weddings as summer and so it is a great time to book that vendor whose website you've been admiring for months. During the winter, most vendors have more open schedules. This means your favourite caterers, cake makers, photographers, and musicians are likely free and clear for your big day, and you can book them without competing with the couple next door.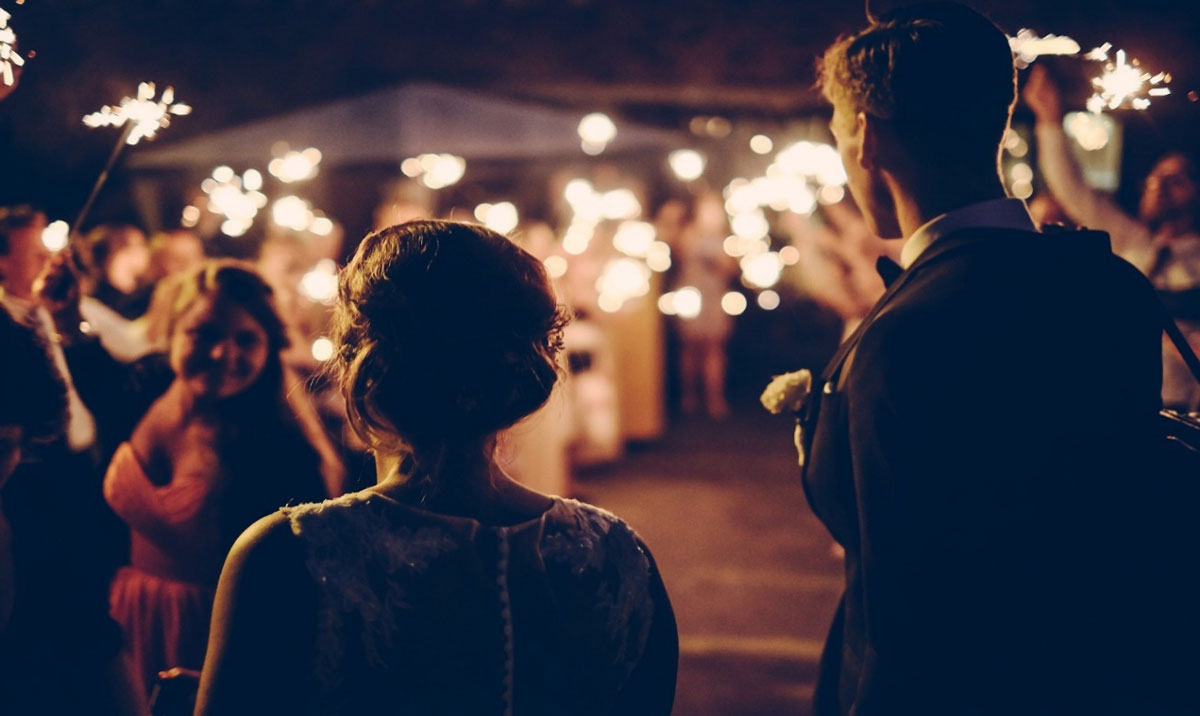 11. The party starts sooner
One of the best parts of a wedding is the reception, where you and your new spouse dance the night away with your nearest and dearest.
The days are shorter during the winter, and that means your guests can really get the party started ASAP.
More Queenstown Winter Wedding Tips
Winter weather means there can be flight arrival and departure delays, always allow plenty of time before your ceremony to arrive in town.
If possible have your ceremony & reception in the one venue, or venues very near to each other. This will make transport easier in case of bad weather.
It gets dark much earlier in the winter so adjust your photo schedule for more light. Taking portraits before your ceremony is often a good idea. If you're not sure how to go about this, just chat to your photographer. They should have a good idea of what will work.
Have nice umbrellas on stand by for outdoor wedding photographs. These don't have to be fancy – simple white or clear can often do the job,