To have found a role that I have a passion for, in which I am a part of a couples biggest day of their lives together makes me feel fulfilled and blessed, … and then to receive the following message and photo from Mark and Kathryn just tops everything off, very nicely.
Thank you to you both for your very kind words. May you have a long and happy life together, my friends.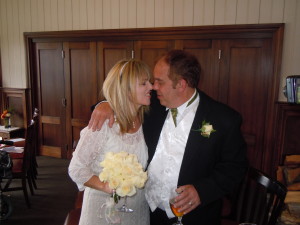 Dear Phillipa,
From the moment I saw Phillipa's smiling face on her internet site I knew that she was the celebrant I wanted.
Some months prior to the ceremony my fiancee and I met with Phillipa for a coffee and a chat. We all got on famously from the word go. She was able to give us an idea of what was needed in the ceremony in regards to what would happen, what vows we had to make by law but more importantly she was able to reassure us that we could have the ceremony the way we wanted.
We exchanged a number of e-mails during which time she continued to give advice and guidance. She asked some very relevant questions from which she was able personalize the ceremony. (Where and when we met etc.) She was then able to offer a number of alternatives, all of which were perfect in their own way. My fiancee and I did some mixing and matching and before long we had our ceremony finalized.
A few days prior to the actual ceremony Phillipa came to our apartment and we had a long chat about what was going to happen. We also had an opportunity to rehearse some of the ceremony and her advice and guidance was invaluable. It included things like how I should hold my fiancee's hand to avoid confusion about putting the ring on the wrong finger.
We had our ceremony at Walter Peak. Phillipa traveled over with the guest and upon arrival she immediately took control of the proceedings. (Thank goodness). She guided us through the ceremony like a pro.,giving advice, guidance throughout. Looking up and seeing her smiling reassuring face got us through the ceremony. We were completely in her hands and she never let us down once. The service went like a dream.
My wife and I have no hesitation in recommending Phillipa as your wedding celebrant. In fact, personally speaking you would be a fool not to.
Very best wishes
Mark and Kathryn………