Winter in Queenstown is a beautifully romantic time of year, especially July and August, which makes Queenstown a downright magical destination for a winter wedding —here are 8 reasons why:
1. Queenstown is a winter wonderland
What's more romantic than walking with the person you love in snow? From the breathtaking views of ice and snow to the homey warmth of an open fire and mulled wine, winter is an absolutely beautiful season. July and August are the best months for a winter wedding in Queenstown and you should absolutely take advantage of the natural beauty around you and consider a winter wedding.

2. It's a perfect opportunity to enjoy a ski/snowboard holiday and marry at the same time!
Queenstown is home to New Zealand's best ski fields. With four ski areas within easy access and offering quality snow and terrain for all levels of skiers. Queenstown is the ultimate ski holiday destination. With direct flights from Australia and New Zealand's main centers, getting to Queenstown is easy and you can be up the mountains or in our vibrant town centre in a matter of minutes.
Over the years I have seen many couples combine a ski trip with their wedding and honeymoon. Clever!!
3. Winter Elopement
A winter elopement in Queenstown is the perfect answer if you prefer:
1. Intimacy and Intention
2. Less family drama
3. A "just us' experience
4. Valuing experiences over stuff
5. Less stress and anxiety
6. Less planning
7. Don't like to be the centre of attention
8. Believe life is meant to be an adventure
An elopement may suit you more than a traditional wedding, discover here the many reasons and elopement may be perfect for you and your partner https://weddingcelebrantqueenstown.com/why-it-is-better-to-elope-for-some-couples/
4. White Goes with Everything
If you get married in the winter, you'll probably pick white as one of your wedding colours (after all, it's literally everywhere). But here's the great thing about that: white compliments every other hue! This gives you a lot of freedom to work with accent colours. Do you want a rich colour palette? Deep burgundy or emerald will give off an elegant vibe. Would you rather have something brighter? Silver and shades of light blue create a fun, festive look!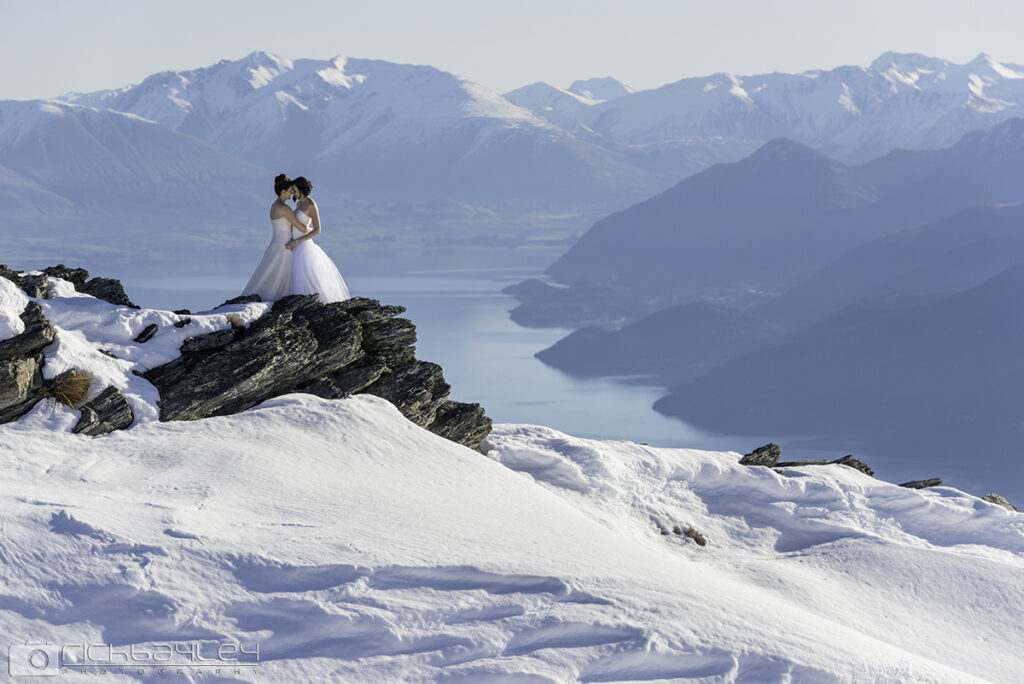 5. Hot Drinks > Cold Ones
Is there anything better than warming up with mulled wine or spiced cider on a winter day? Winter weddings are the perfect time to indulge in your favourite hot beverages and comfort foods. Serving your guests hot cocoa and warm, hearty food is a surefire way to create a homey atmosphere—and if your guests feel right at home, everyone is sure to have more fun!
6. Fabulous photography opportunities
Couples who get married in the winter can make mother nature work for them! In the mornings, sunlight reflecting off the snow and frost make for brighter, better images. And if you want a romantic shot in the sunset, you won't have to wait that long! Shorter days mean you'll have more time available to play with different lighting, and that means you'll have a greater variety of wedding photos to choose from.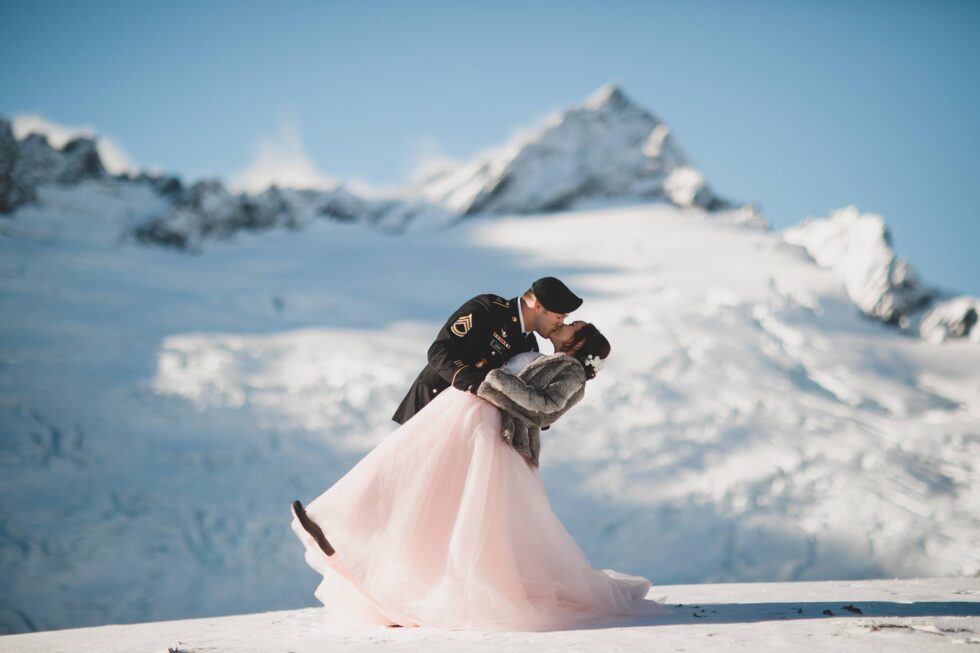 7. Vendors are generally more available
In Queenstown you will find that winter isn't quite as busy for weddings as summer and so it is a great time to book that vendor whose website you've been admiring for months. During the winter, most vendors have more open schedules. This means your favourite caterers, bakers, photographers, and musicians are likely free and clear for your big day, and you can book them without competing with the couple next door.
8. The party starts sooner
One of the best parts of a wedding is the reception, where you and your new spouse dance the night away with your nearest and dearest. But it's pretty tough to dance the night away if the sun doesn't get dark until 10pm like it does in Queenstown in summer. The days are shorter during the winter, and that means your guests can really get the party started ASAP.